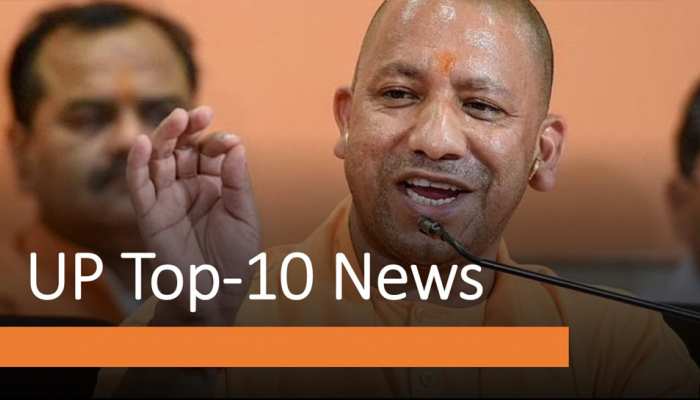 Big News Of Uttar Pradesh: Speculation of Shivpal Yadav joining BJP has intensified, while Congress has offered Azam Khan to join the party. Know what are the big news of Uttar Pradesh today.
Top 10 News Of UP: Politics is going on in Uttar Pradesh regarding Azaan and Hanuman Chalisa. Today (on Saturday) in UP, Hanuman Janmotsav is being celebrated with pomp and devotees are reaching the temple. Know here 10 big news of UP.
1. Chief Minister Yogi Adityanath congratulated the people of the state on Hanuman's birth anniversary and prayed for their better health.
2. CM Yogi Adityanath will be on Gorakhpur tour today. Chief Minister Yogi will inspect the under construction Sainik School Goddhoia drain and will participate in the Gallant Ayurveda-Jyotish Mahasamagam program.
3. Politics continues in UP on Ajan and Hanuman Chalisa. Cabinet Minister Suresh Khanna recited Hanuman Chalisa in Shahjahanpur. Today again Suresh Khanna will reach Shahjahanpur in the closing program.
4. After reaching Etawah, Shivpal Yadav gave a big statement. He said that soon a new organization would be formed. Shivpal Yadav can join BJP on April 19.
5. Congress invited Azam Khan to join the party. Also proposed to give big responsibility in national politics. Azam Khan is currently in jail.
6. On the question of not getting Azam Khan out of jail, SP President Akhilesh Yadav has shied away. He said that the SP government was not formed in UP. This question should have been asked before the election.
7. There are many big officers on the radar of CM Yogi. A list of officers to meet the Samajwadi Party chief has also been prepared during the election. Soon there may be a big administrative reshuffle in UP.
8. Union Minister of State Arjunram Meghwal narrowly survived in the Taj city of Agra. During the address on the stage, the lights of the pandal fell. 6 people were injured in this accident.
9. Mission Shakti Abhiyan of UP Police has got a big success in Mainpuri. In the matter of punishing criminals, Mainpuri is at number 6 in UP. So far, the police have awarded life imprisonment to 19 criminals.
10. Coaching operator has been beaten up in Hardoi. The tenants beat up the coaching operator in a dispute over bicycle parking. Police have started investigation by registering a case.
Live TV
Disclaimer: This story is auto-aggregated by a computer program and has not been created or edited by Prachand.in. Publisher: Zee News