Will give a crushing defeat to China with the help of the public: Ajit Mohapatra
A huge program was organized on the eve of the first foundation day of Indo-Tibetan Coordination Association.
Former Governor Kaptan Singh Solanki said, Tibet liberation struggle is the second fight for the country's independence.
National President Prof Juyal said, liberation of Kailash-Mansarovar is possible only with the independence of Tibet.
Lucknow, Rashtriya Swayamsevak Sangh's All India Executive Member Ajit Mohapatra said that China will be defeated with the cooperation of the people. He said that Tibet is not a political issue but it is part of our cultural fight. A lot of literature of our Sanatan culture is still safe with Tibet and Tibetans. The independence of Tibet is necessary not only for the independence of Tibetans, but also for the security of India. The senior pracharak of the Sangh, Shri Mohapatra said that the Indo-Tibetan Coordination Association is playing an important role in this decisive battle. It is necessary to bring it to the masses.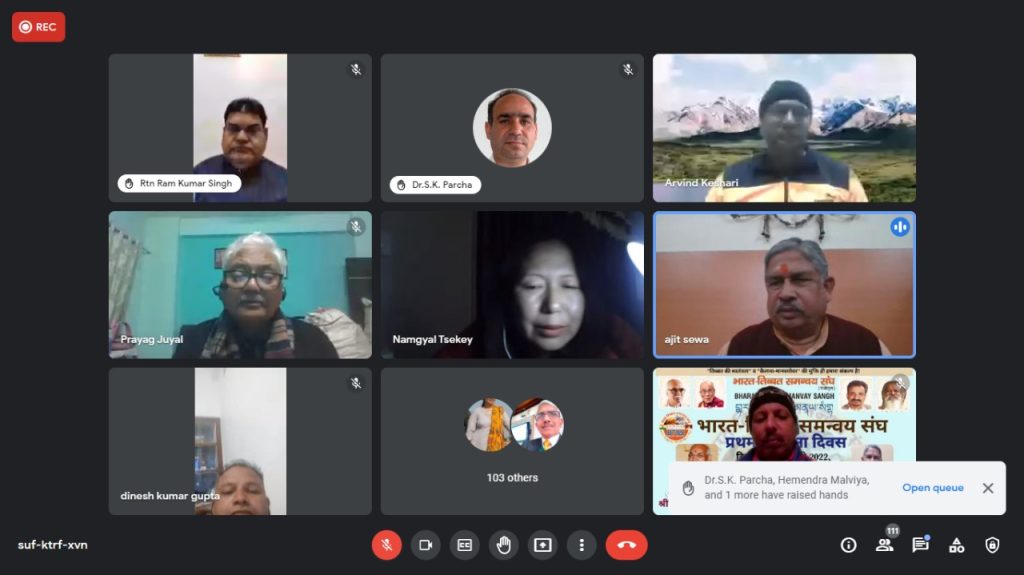 An online program was organized late Thursday night on the eve of the first foundation day of the Indo-Tibetan Coordination Association (BTSS). The chief guest of the program, All India Executive Member of Rashtriya Swayamsevak Sangh and National Gauseva Chief Ajit Mohapatra said that China has become a big threat to the world. He is not only violating the human rights of Tibet, but also creating a new crisis for the world by forcibly capturing its natural resources. China has posed a big threat to the world through an epidemic like Corona. Now the time has come to give a befitting reply to the expansionist policy of China. For this, organizations like the Indo-Tibetan Coordination Association will have to play an aggressive role. It is fully believed that BTSS will be successful in beating China with the cooperation of the people. He said that the activists should send letters to the Chinese embassy in a big way informing them about their actions. On his actions, tell him that we understand his tricks very well and we will also respond to it. Also, through its MPs-MLAs, put pressure on the government to curb China. BTSS's Central Patron and former Governor Prof Kaptan Singh Solanki said that a decisive war will be fought against China with the cooperation of the people. The fight for Tibet is not only a fight for Tibet, but a fight for cultural nationalism. Describing the liberation of Tibet as the second war of independence, he said that we have already won the political war. Now we have to prepare the people for the fight for cultural and economic freedom. BTSS will play a leading role in this. National Chairperson, Women's Department of BTSS, Smt. Namgyal Seki said that India is a true partner of Tibetans and India's contribution in the war of Tibet cannot be forgotten. Everyone has to work together in this war. BTSS is a trusted partner in this war of Tibetans. In the online conference, BR Kondal from Himachal Pradesh, Manoj Gahatodi from Uttarakhand, Dr. Kuldeep Tyagi from Meerut province, Dinesh Bhati from Rajasthan, Awadhesh Singh from Delhi, Fakirchand Chauhan from Haryana, Rajo Malviya from Madhya Pradesh etc. expressed their views. National President of BTSS Prof. Prayag Dutt Juyal congratulated everyone on the first foundation day and called for taking the organization to Nyaya Panchayat level in the next one year. He said that for the liberation of Lord Shankar's native place from China, Tibet must first be liberated from China. National General Secretary Vijay Mann conducted the program. On this occasion, BTSS Central Convenor Hemendra Tomar, National General Secretary Dr. Arvind Keshari, National Organization Minister Narendra Pal Singh Bhadauria, National Treasurer Ajit Agarwal, Dr. N. Shiv Subramanian Chennai, Prof. Parmendra Dasoda Udaipur, Prof. Sumitra Kukreti Delhi, Neeraj Singh Delhi, Prof B R Kukreti Bareilly, Lalit Agarwal Muzaffarnagar, Jyoti Sharma Jaipur, Narendra Chauhan Dehradun, Tarun Soni Pali, Satyajit Thakur Sagar, Ogyen Kyaab Mcleodganj, Sadashiv Manipur, Praveen Mishra Ranchi, Vivek Soni Varanasi, Ramkumar Singh Sant Kabir Nagar, Ravi Gond Dharamshala, People from all over the country were present in Yagya Joshi Gujarat, Twinkle Patel Ahmedabad, Dr SK Paracha Dehradun, Tejas Chaturvedi Ghaziabad, Col NK Dhaka Nagaur etc.