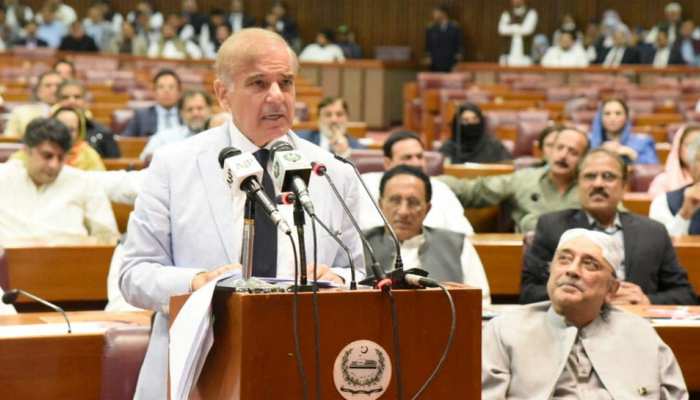 Shehbaz Sharif has taken oath as the Prime Minister after Imran Khan's power in Pakistan. However, even before the oath, he has raised the issue of Kashmir as soon as he was elected the Prime Minister.
Islamabad: After being elected the Prime Minister of Pakistan, Shehbaz Sharif has already raised the issue of Kashmir in his speech. Referring to the abrogation of Article 370, he alleged that people are bleeding in the Valley and Pakistan will raise the issue at every international forum along with providing diplomatic and moral support to them.
The 70-year-old Shahbaz, who replaced Imran Khan, said that he wants good relations with India, but it cannot be achieved without the resolution of the Kashmir issue. He said that neighbor is not a matter of choice, it is something we have to live with and unfortunately Pakistan's relations with India have not been good from the beginning.
Referred to removal of 370
He also attacked Imran Khan for not making serious and diplomatic efforts on India's abrogation of Article 370 in August 2019. Shahbaz Sharif, younger brother of Nawaz Sharif, who was the Prime Minister of Pakistan three times, said, 'What serious effort did we make in August 2019 when there was forceful encroachment and abrogation of Article 370. What serious diplomacy did we try? The blood of Kashmiris is flowing on the streets of Kashmir and the Kashmir Valley is red with their blood.
He expressed his desire for better relations with India but linked it to the Kashmir issue. The newly elected prime minister said, "We want good relations with India but unless the Kashmir dispute is resolved, lasting peace is not possible." He said that Pakistan will continue to provide political, diplomatic and moral support to the people of Kashmir.
Help sought from India
Shehbaz Sharif said, 'We will raise voice for Kashmiri brothers and sisters at every platform, make diplomatic efforts, give them diplomatic support, we will give them moral support'. He asked Prime Minister Narendra Modi to come forward to resolve the Kashmir issue so that both the countries can focus on tackling poverty, unemployment, shortage of medicines and other issues on both sides of the border.
Relations between India and Pakistan have deteriorated after the 2016 terrorist attack on the Pathankot airbase. After this, the Indian Army camp in Uri was attacked, after which the relations deteriorated further. In August 2019, India abolished the special status of Jammu and Kashmir and announced the bifurcation of the state into two union territories. This made the relationship worse.
Terrorism and talks do not go together
Pakistan reduced its diplomatic ties with India and sent back the Indian High Commissioner from Islamabad. It also cut off all air and land links with India and suspended trade and railway service.
India has said that it wants normal neighborly relations with Pakistan in an environment free from terror, enmity and violence. India has said that it is the responsibility of Pakistan to create an environment free from terrorism and enmity.
Live TV
Disclaimer: This story is auto-aggregated by a computer program and has not been created or edited by Prachand.in. Publisher: Zee News