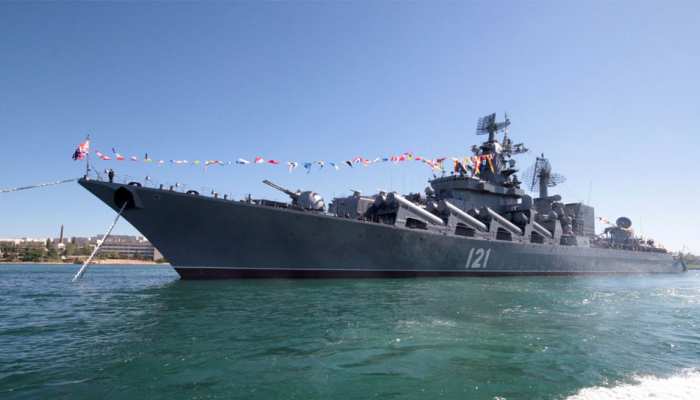 Nuclear Weapons of Russia: The Russian warship is being claimed to have nuclear weapons. On the way to Sevastopol, the Russian ship sank after a long fire on board of this giant warship.
Nuclear Weapons of Russia in warship: Russian warship Moskva, which sunk in the Black Sea, may have two nuclear weapons. According to media reports, experts from Ukraine have made this claim. Ukrainska Pravda reported in one of its reports that Andrey Klymenko, project manager of the Black Sea Institute for Strategic Studies, said, 'Experts say there are 2 nuclear warheads for cruise missiles on the 'Moskva' (maybe this is news to many people) But yes, this ship is a nuclear weapons carrier).' He said, 'Where are these weapons? Where were they when the ammunition exploded? Where is the point on the map? Who did the coordination? – These are the competencies of the United Nations Security Council, IAEA…'
That's why experts got suspicious
Experts further said, 'The Black Sea coastal countries – Turkey, Romania, Bulgaria, Georgia – should be involved (cognizance of the matter) immediately.' On the evening of 13 April, it was reported that a Ukrainian anti-ship Neptune missile struck a missile cruiser of the Russian Black Sea Fleet. After this, the cruiser with 16 cruise missiles became inoperative and sank.
Russian Defense Ministry gave information
On the morning of 14 April, the Russian Defense Ministry acknowledged that a fire had broken out on the deck of the flagship of the Black Sea Fleet. According to Ukrainska Pravda, the ministry said that the accident was caused by a sudden detonation of ammunition. It further stated that the command has also personally reported the incident to Russian President Vladimir Putin.
biggest blow to russia
The Russia-Ukraine war has entered the eighth week and in the meantime a bad news has come out for Russia, because Russia has suffered the biggest setback ever. The Russian Navy's Slava-class cruiser Moskva sank in the Black Sea.
Read also:
'Moskva' sunk by missile attacks?
The Ukrainian military command announced on the afternoon of 14 April that the cruiser Moskva was sunk by Ukrainian missiles. It was later reported that the Russian ship sank after a long fire on board the giant battleship while en route to Sevastopol. (Input: IANS)
Live TV
Disclaimer: This story is auto-aggregated by a computer program and has not been created or edited by Prachand.in. Publisher: Zee News