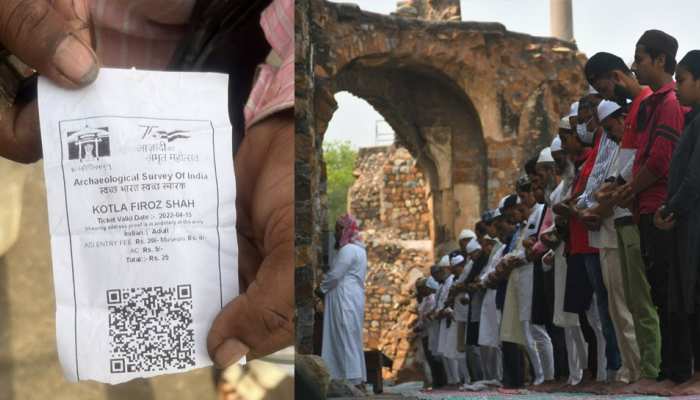 Firoz Shah Kotla Namaz: Now ASI is charging Rs 25 from those who offer Namaz in Firoz Shah Kotla. That's why people have started coming less in this mosque.
Firoz Shah Kotla Namaz Ticket: Those who offer Namaz in Delhi's Feroz Shah Kotla will now have to pay Rs 25, only then they will be able to go inside and offer Namaz. Earlier, there was no need to take a ticket to offer Namaz in the mosque built in Kotla. Earlier, tickets were used only for the people who roam there. People of Muslim religion used to come in large numbers to offer prayers every Friday, but since the order has come for those who come to offer Namaz to take tickets, since then the number of people who offer Namaz has come down significantly.
So the ticket started
Actually, this decision has been taken by the Archaeological Survey of India (ASI) because Kotla is a historical building and the responsibility of its maintenance is also with him. Earlier, a large number of people used to come and many times they had to face a lot of difficulties due to the crowd.
Why the exemption to the worshippers?
Apart from this, this decision has also been taken because people said that when the common tourist is coming here by paying money, then why should only those who offer Namaz be exempted from it. If he wants to offer Namaz, then bring a ticket and go after offering Namaz.
The people of the Muslim community are angry
However, the people of the Muslim community who offer Namaz in Kotla are angry with this decision. Mohammad Umar, who came to offer Namaz, told that he has been coming here to offer Namaz since last year and before now there was no ticket. But now this new decision of ticketing will cause problems for them. This problem will also happen to those people who are very poor.
People who are not coming to offer namaz with tickets
However, ASI has not banned anyone from offering Namaz and people also came to offer Namaz with tickets. But before the ticket of Rs 25, very few people reached the number and this decision has been taken only so that there is no discrimination of any kind.
Live TV
Disclaimer: This story is auto-aggregated by a computer program and has not been created or edited by Prachand.in. Publisher: Zee News