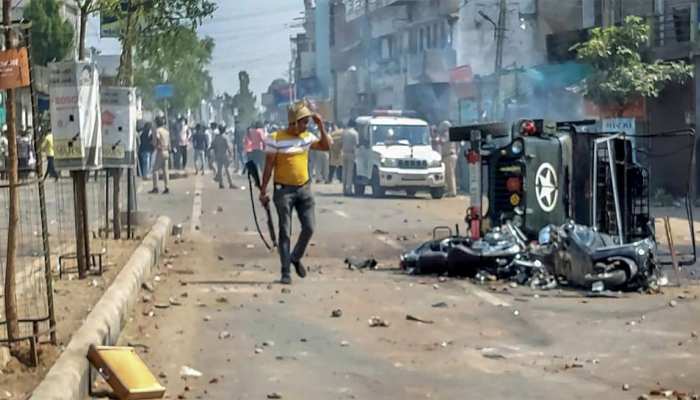 There have been cases of violence in many cities of the country on Ram Navami. This includes the cities of Delhi, Gujarat, Madhya Pradesh and Jharkhand. Know here 10 big things about the cases of violence erupted on Ram Navami …
New Delhi: On Sunday, reports of violence on Ram Navami have come to light from many cities of the country. Curfew has been imposed in the entire city after incidents of stone pelting, arson in some vehicles and houses on Ram Navami procession in Khargone city of Madhya Pradesh. Similar cases have also been reported from Delhi, Gujarat and Jharkhand. Know here 10 big things about the violence that erupted on Ram Navami…
1. In Khargone city of Madhya Pradesh, there were incidents of stone pelting on Ram Navami procession, arson in some vehicles and houses on Sunday. Khargone District Magistrate Anugrah P said that curfew has been imposed in entire Khargone.
2. An official said that Khargone's Superintendent of Police (SP) Siddharth Choudhary sustained bullet injuries during the violence. After the violence, the police had to fire tear gas shells to bring the situation under control.
3. DIG Tilak Singh said that more than 70 people have been detained so far. The DIG said that at least 24 people, including six policemen, were injured in the violence and they have been medically examined.
4. Madhya Pradesh Chief Minister Shivraj Singh Chouhan said that the guilty will not be spared. Those who instigated the riots, damaged the properties, they will also be compensated from them.
5. A similar incident of stone pelting came to the fore during a Ram Navami procession in Sendhwa town of Barwani district in which a police station in-charge and five others were injured. According to officials, the situation was brought under control later. Barwani district superintendent of police Deepak Shukla said that Sendhwa police station in-charge Baldev Singh Mujalde and five others were injured during stone pelting on Ram Navami procession on Jogwara road on Sunday. The police immediately controlled the situation.
6. Communal clashes broke out between two communities during Ram Navami processions in Gujarat's Himmatnagar and Khambhat towns on Sunday. One person was killed while another was injured in the communal clash in Khambhat. police gave this information.
7. Officials said that during the communal clashes, the police had to use tear gas shells to control the stone-pelting mob. The city of Khambhat falls in the Anand district while Himmatnagar is in the Sabarkantha district.
8. Dozens of people were injured in stone pelting and attack on procession participants with sharp weapons near Hirahi Bhokta Garden area of ​​Jharkhand's Lohardaga district, triggering tension in the entire district. In view of the situation, a large number of security forces have been deployed in the area.
9. Former Jharkhand Chief Minister Raghuvar Das has strongly condemned this incident and alleged that due to minority appeasement by Hemant Soren government, such incidents are happening again and again in the state.
10. A fight broke out between left student and ABVP students on Ram Navami in Jawaharlal University of Delhi. ABVP students offer prayers on Ram Navami on campus. After this there was a clash between the two groups.
Live TV
Disclaimer: This story is auto-aggregated by a computer program and has not been created or edited by Prachand.in. Publisher: Zee News