Mumbai Bollywood actress Richa Chadha has surprised everyone by sharing her new pictures after losing weight. Richa Chadha had gained a lot of weight, but has lost weight, and has also shared pictures of her transformation. Richa Chadha is wearing a skin fit deep neck dress in which she is looking very sexy and bold. According to the information, Richa Chadha has retained her new figure by losing 15 kg in just three months.
Sharing her pictures, Richa Chadha wrote, "Healthy weight loss means you don't lose your muscles, as in my case, the hip muscles are intact." Everyone is surprised to see this tremendous weight loss of Richa Chadha and is commenting.
Richa Chadha has shared three glamorous photos on her Instagram account. In these pictures, the actress is seen in more than one pose in a black front neck open Thai high slit shimmery dress. Meanwhile, the actress has also kept her makeup very bold. Also, Curly Massey is seen giving stunning poses with hair in a dark background.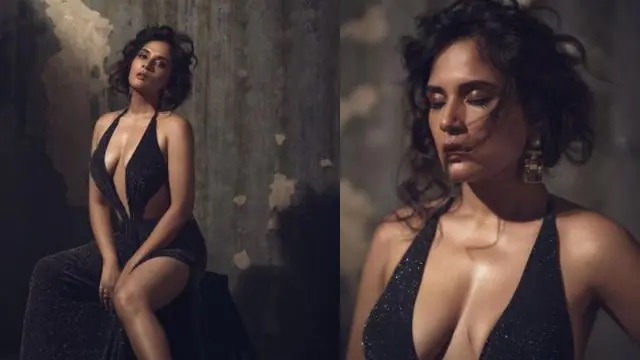 Sharing this super hot post, Richa Chadha wrote in the caption, 'I love doing photoshoots where the photographer and I are friends (as in this case). Love the worldview, music, art in general. While shooting for this special, I felt like I was playing a character. It is different from my films but still interesting. Richa Chadha's post has engulfed the internet.
Source