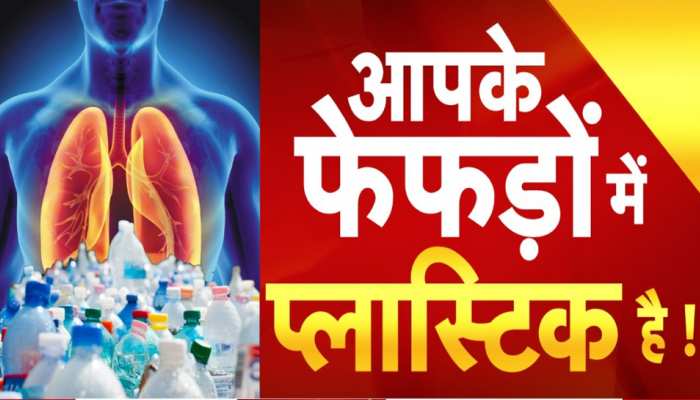 Human beings do everything possible to stay fit. But due to lifestyle and outside environment, many challenges arise. Now in the latest research, the presence of plastic in human lungs has been detected.
New Delhi: Plastic has become an essential part of our life. Whether we have to drink water, bring some goods from the market, be it our home or office. Plastic is present everywhere. But do you know that this plastic is also making a place in our body. A surprising disclosure has been made in the research of Hull University of Britain. Research has shown that this plastic has not only reached our lives but also our lungs. Know what the whole research says.
Clean air in the luck of only 1%
Today the whole world is struggling not only to have peace but also to breathe clean air. The air has become poisonous and it has become our compulsion to drink this poison slowly through the breath. According to WHO, only 1 percent of the people in the whole world are able to breathe clean air. That is, 99 percent of the people of the world do not have even fresh and clean air to breathe.
But there is such a poison in this poison too, whose bite is not with anyone. Actually, during a research, for the first time plastic particles have been found in human lungs. Research by Hull University, UK, has revealed that the plastics we use in our everyday lives. It is dissolving in the air and reaching our body.
plastic particles found in lungs
This information came to light when 13 people from Britain reached the hospital for treatment of Lungs Infection. All of these had to be operated on. But then the scientists got suspicious and they took out everyone's lung tissue as a sample for examination. But when these samples were examined, the scientists were also surprised. Plastic particles were found in the lungs of 11 of these 13 people.
According to the study, 11 people who got plastic in their lungs. The highest amount of them is of polypropylene. This is the same plastic from which polybags i.e. thin plastic bags are made. This plastic has been found in the lungs of people up to 23% percent. The second number comes PET i.e. the plastic from which water bottles are made. It has also been found in 18% of the lungs, while the resin plastic from which sacks are made. 15 percent of it was also found in the lungs. 16 percent of the different types of plastic have also been found in human lungs.
confirmation of plastic in the blood
Earlier we told you about getting plastic in human blood. In that report of a university in the Netherlands, information was given about the presence of plastic in the blood of 80 percent of humans. These scientists had examined the blood samples of 22 people, in which plastic particles were found in the blood of 17 people. That is, plastic was found in the blood of 80 percent of the people.


The most surprising thing was that out of these 17, 8 out of 17 people had found particles of polyethylene terephthalate i.e. PET. This is the same plastic from which water bottles are usually made. Polystyrene particles were found in the blood of 5 people, this plastic is used in the packaging of food items like biscuits, chips. At the same time, particles of polyethylene were found in the blood samples of 4 people, the plastic bags we use are made from this polyethylene.
How was the entry in the body?
Now after new research, it has become clear to a large extent that this plastic first dissolved in the air and reached the lungs of people through breathing and from there it reached their blood. According to experts, this is not the only way for plastic to enter the human body. The plastic present in the stomach of fish or animals can also reach inside the body with non-veg food.
In fact, plastic has become a part of people's life. We have to bring vegetables, fruits from the market, buy medicines or clothes or even drink water. Plastic is present everywhere. Life today cannot be imagined without plastic. However, your caution can save you from this danger. You have to take some precautions so that plastic does not reach your body.
Do this work to save
For this, do not eat hot food in plastic utensils. Steel utensils should be used instead of plastic. Instead of drinking tea in plastic cups, use kulhad. Never throw plastic items and garbage in the open. If you want to drink water, use copper, steel or glass bottles instead of plastic bottles. That is, if you take some precautions, you can stay healthy while staying away from this deadly danger of plastic.
Live TV
Disclaimer: This story is auto-aggregated by a computer program and has not been created or edited by Prachand.in. Publisher: Zee News