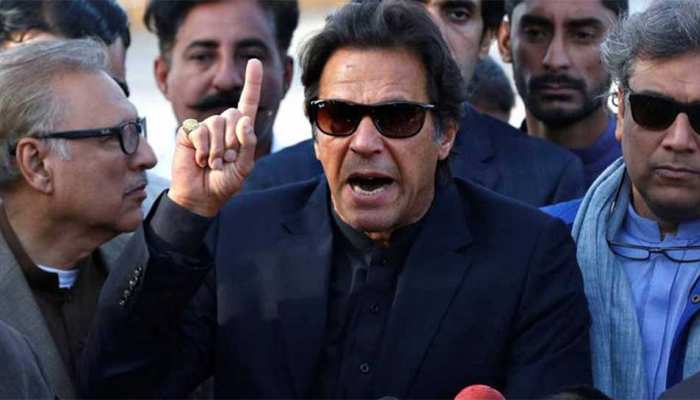 Imran Khan, who was ousted from the power of Pakistan, is now showing his strength through protests. The workers of his party PTI are protesting by taking to the streets in large numbers. During this, slogans are also being raised fiercely against the army.
Islamabad: After the ouster of Imran Khan from power, massive protests have started in Pakistan. On Sunday, thousands of workers of Imran's party Pakistan Tehreek-e-Insaf (PTI) took to the streets and demonstrated. During this, angry workers also raised slogans against the army.
Allegations of conspiracy against Imran
According to the report of news agency ANI, protests are taking place in many cities including Islamabad, Karachi, Peshawar and Lahore for the removal of Imran Khan from power. The protesters are raising slogans against the army and the opposition parties. They say that the Imran government has been brought down under a conspiracy. Earlier, Imran had talked about starting a new fight for freedom through a social media post.
Rahul's slogan became 'Sahara'
The leaders of PTI are constantly appealing to the people to join the protest. Party spokesperson Fawad Chaudhary appealed to the public and said that people should come out of their homes and oppose the conspiracy against the Imran government. Meanwhile, slogans of 'Chowkidar Chor Hai' have also been heard in Pakistan. Let us tell you that Congress leader Rahul Gandhi had raised the slogan of 'Chowkidar Chor Hai' to attack the Modi government, which has now become famous in Pakistan as well.
Slogans in presence of Rashid
The role of the army is considered to be the most important in bringing down the Imran government. This is the reason why there is resentment among the PTI workers about the army. Describing the army as a 'chowkidar', he has called it a 'thief'. 'Chowkidar Chor Hai' was heard at a rally organized by party leader Sheikh Rashid Ahmed at Lal Haveli in Punjab province. However, Rashid was seen asking people not to raise such slogans. He told the supporters not to raise slogans against the army, we will fight with peace.
'Will tell everyone they are thieves, robbers'
Talking about the midnight decision of the National Assembly, Sheikh Rashid said, 'If you want to save your country, then decide not in the dark of night but in the light of day'. He further said that there will be Eid on 29/4. Be ready we will start 'Jail Bharo' movement from Lal Haveli everyday. I myself will start it from Karachi. We will tell everyone that they are thieves, cheaters and robbers.
Disclaimer: This story is auto-aggregated by a computer program and has not been created or edited by Prachand.in. Publisher: Zee News