Gandhinagar: It has been raining in Gujarat for the last two days. Meghraj is raining in many districts of the state. Amidst the forecast of the Meteorological Department, it has rained in many talukas of the state since morning. Till 4 pm, rain has been recorded in 191 talukas of Gujarat. There is panic in Visavadar taluka of Junagadh district. Visavadar has received the maximum rainfall of 11 inches. 67 talukas of the state have received rainfall ranging from 1 to 6.5 inches.
Visavadar of Junagadh has received more than 10 inches of rain. Due to this, Poptadi river has flowed on both banks. Rain in Visavadar Panthak may increase the troubles of Ghed Panthak.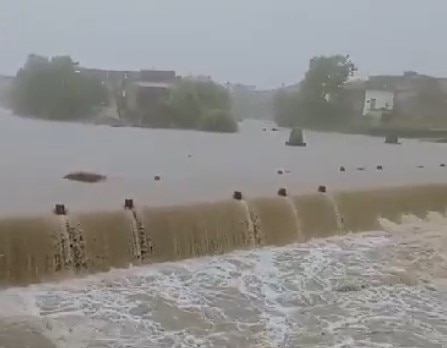 Due to heavy rains, the Big Gujariya reservoir near Big Gujariya village of Bhensan taluka is 100 percent filled. Due to this, villages in low lying areas have been alerted. Besides, a request has also been made not to roam around the reservoir and to be careful.
Due to 100 per cent filling of Gujariya dam, Badi Gujariya of Bhensan taluk while Bada Kotada, Chhota Kotada, Manganath Pipli, Vajdi and Khambhaliya villages of Visavadar taluka have been put on alert.
The Municipal Corporation administration is in action mode after heavy rains in Junagadh city. Flood conditions on 22 July caused heavy damage to the city. Now the Municipal Corporation administration has become alert as if it does not want to take any risk. Municipal Corporation officials are clearing garbage with JCB machine on Vonkala beach. So that there is no problem in disposal of rain water. It seems as if the Municipal Corporation system has learned from the previous flood incident and has now put the system in order.
The largest Ozat river of Sorath is flowing on two banks. There has been heavy flooding in the Ozat River. Meghraja has entered after a long break. There has been light to moderate rain on Junagadh Mendara Road.
Rainfall situation in Junagadh district
Rainfall during last 10 hours (in mm)
Junagadh – 30
Manavadar – 24
Vanthali – 128 Bhensan –
36
Visavadar – 187
Mendara – 157
Keshod – 7 Mangosteen
– 4
Maliyahatina – 8
Total rainfall so far in Junagadh district (in inches)
Junagadh – 61.64
Manavadar – 43.88
Vanthali – 56.2
Buffalo – 47.68
Visavadar – 91.48
Mendara – 78.72
Keshod – 62.56
Mangrol – 58.84
Maliyahatina – 55.84
The average rainfall so far in Junagadh district has been 61.84 inches. Amidst the forecast of the Meteorological Department, it is raining in Junagadh district also. It has been raining in many taluks of the district since morning.