Human Rights: America had commented on human rights in India, to which India responded well. Now China's official newspaper Global Times has also advised Washington not to give a speech, taking New Delhi's side in this matter.
Global Times on India: A few days ago there was a virtual meeting between Prime Minister Narendra Modi and US President Joe Biden on the issue of Russia-Ukraine War. China's official newspaper Global Times had praised PM Modi's stand in this meeting, now once again the Chinese newspaper has taken India's side. He has said that America should learn how to deal with emerging powers.
US reprimanded
In fact, in the presence of Indian Foreign Minister S. Jaishankar and Defense Minister Rajnath Singh, in the joint press conference after the US-India two-plus-two talks, US Secretary of State Antony Blinken called on India. India's human rights situation, to which India responded well. Regarding this, 'Global Times' has reprimanded the US, praising India's stand.
Said this in the tweet
The Chinese newspaper tweeted and wrote, 'America has no right to give a speech on human rights to independent India. America should stop considering India as its customer country. The US should keep its great morality to itself and learn to deal properly with emerging powers. Earlier, Global Times had also praised India's neutral stand on the Russia-Ukraine issue. In the article published in the newspaper, Chinese experts had said that the stand taken by India is beneficial for it.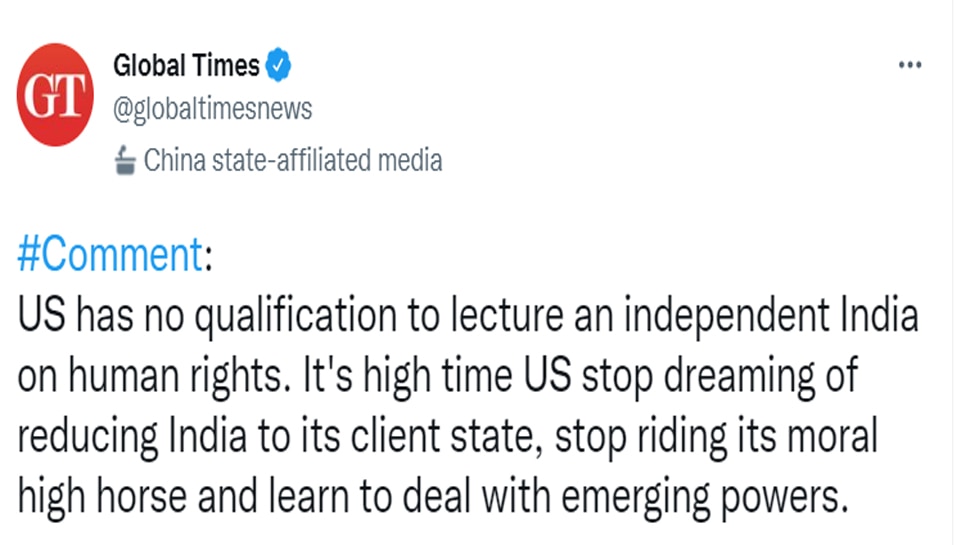 What did Antony Blinken say?
US Secretary of State Antony Blinken had said that India and the US share a commitment to democratic issues of human rights. We have a close watch on some incidents of human rights violations in India. There has been an increase in cases of human rights violations by some of the Indian governments, police and prison authorities.
India gave this answer
India did not immediately respond to this comment of the US Secretary of State, but later S Jaishankar said in a press conference that India is also monitoring the matter of human rights violations in America. He clarified that the issue of human rights between the two countries was not discussed in the two-plus-two talks and if it happens further then India is fully prepared to talk on it.
Disclaimer: This story is auto-aggregated by a computer program and has not been created or edited by Prachand.in. Publisher: Zee News