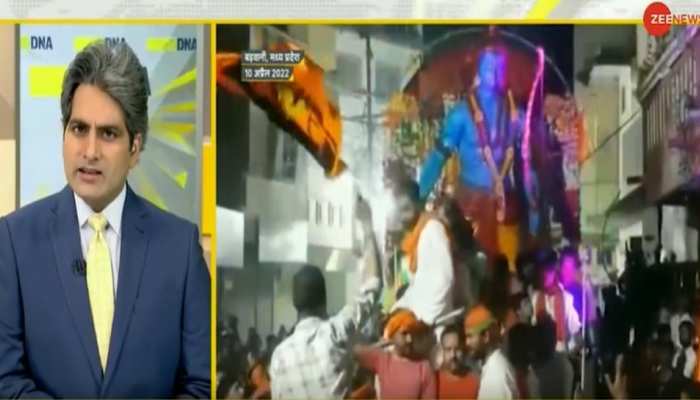 DNA: How unfortunate that in a country like India where Lord Ram is considered a guide and a source of inspiration, in the same country on the occasion of his birthday, incidents of violence took place at more than five places.
New Delhi: On the occasion of Ram Navami, communal violence took place in many areas of the country. There were attacks on the processions being taken out on Ram Navami. Now many people of our own country are justifying these attacks by saying that Ram Navami processions should not have been taken out from Muslim areas. That is why we are asking this question to all of you that how can any place be a Hindu area or a Muslim area in a secular country? Because neither in our constitution nor in our government records any place has been marked in this way.
Now is the time to make India Files?
Along with this, on the day of Ram Navami in JNU of Delhi, some students insisted on eating non-veg, on which there was a fight between the students. But the big thing is that this fight over non-veg food in JNU is on the front page of every newspaper. Whereas the rest of the attacks on Ram Navami are not being mentioned in the media. We will analyze whether after Kashmir Files, now is the right time to create India Files too?
rain of stones instead of flowers
Think, how unfortunate it is that in a country like India, where Lord Ram is considered a guide and a source of inspiration, there were incidents of violence at more than five places on the occasion of his birthday in the same country. All these incidents happened when people were taking out processions and processions on the occasion of Ram Navami. The states where violence took place are Gujarat, Madhya Pradesh, West Bengal and Jharkhand. In Madhya Pradesh's Barwani and Khargone, stones were pelted on the devotees taking out the tableau of Lord Ram. During this one person also died. Think, this is the country of Lord Rama. There should have been a flower shower on his birthday. But stones were rained on them.
Cars were also set on fire
Similarly, when 100 to 150 people were taking out a procession in Sabarkantha, Gujarat, at that time some people pelted stones and some vehicles were also set on fire. If you look at all these pictures carefully, then you will not see any difference in them. From West Bengal to Jharkhand, all incidents were executed in the same way. First there was stone pelting, then vehicles were set on fire and all this happened so that the procession of Lord Ram could be stopped from taking out.
Picture of Lord Rama in the third part of the Indian Constitution
The pictures of these incidents are going viral on social media, but these pictures are not being shown by the Mainstream Media of our country. Perhaps you too have not seen many of these pictures till now. That's why you should watch these scenes and understand how communal violence took place in the country of Lord Ram on his birthday. The picture of Lord Rama has been printed in the third part of the Indian Constitution. This part tells about the Fundamental Rights i.e. Fundamental Rights of the citizens of India. Think. He considers him as his guide for these rights. But then in this country, stones are thrown on his tableau.
Bulldozer ran at the house of the accused
In most incidents of violence, the police have arrested the accused and in Khargone, Madhya Pradesh, at the house of 10 accused, the police have put them down by running a bulldozer. The Madhya Pradesh government has said that an organization named Popular Front of India ie PFI may be behind these violent incidents. Who is also accused of plotting the Delhi riots in 2020. Apart from this, the organization is also accused of funding the movement of Shaheen Bagh.
What was the country's mainstream media doing?
A secular country is one where there is tolerance. People of Islam should show tolerance on festivals of other religions and people of Hindu religion should show tolerance on festivals of other religions. Sacrifice is considered sacred in Islam. That's why we want to ask our Muslim brothers whether they can sacrifice their likes and dislikes on Hindu festivals. Can people of Hindu religion also show tolerance and sacrifice their choice on festivals of other religions in the same way? You should also not forget that when all these violent incidents were happening in the country on the occasion of Ram Navami, what was the mainstream media of our country doing at that time? In most of the newspapers only two news were featured prominently. The first news is about the change of power in Pakistan. The second news is about Delhi's Jawaharlal Nehru University ie JNU, where a minor incident of violence took place on Sunday night. But this minor incident was made a big news by the media of our country.
Nov-Veg Food Conflict
This incident took place in JNU's Kaveri Hostel when religious rituals and Havan were being performed there on the occasion of Ram Navami. The university has said in its official statement that most of the hostel students were taking part in this religious ritual and during this an iftar party was also to be organized near the hostel at around 5 pm. There was no dispute between the two sides regarding this. But later it was alleged by the students of the Left Party that due to Ram Navami, Nov-Veg food was not allowed in the Mess there. Due to which the confrontation between the students of both the groups increased and during this there was also a fight. In which a total of 6 people have been injured.
JNU is the center of the politics of liberals
On Monday, there was uproar over this incident and left party students protested outside Delhi's Tughlaq Road police station and police headquarters. As many of you who live outside Delhi and study in universities and colleges of your respective states, there must be such incidents among students. But imagine, how many times have you seen that when such incidents of your university and college have been published on the front page of the national newspapers of the country. That never happens. This is seen only in the case of JNU, because the liberals of our country have made JNU the center of their politics.
A lot of discussion about the picture of the girl student
The picture of a girl student who was injured in this violence is being discussed a lot and newspapers have also published this picture on their front page. The name of this student is Akhtarista Ansari.. who is a student of MA Sociology in JNU. The interesting thing is that in the picture from a day ago, this girl student is seen covered in blood and it seems that she has been badly killed. But in Monday's picture she has a minor injury on her forehead and she is smiling. One more thing.. This is not the first time, when a picture of this girl student has gone viral on social media. In the year 2019, when protests were taking place in Delhi's Jamia University against the Citizenship Amendment Act, this student was also present there. In a picture from then, it was seen protesting the lathi charge of the police. This student was then studying BA degree from Jamia University. Every news channel is showing the side of this student. But another student has been injured in this violence, whose name is Divya Suryavanshi. She is an ABVP worker and has suffered an injury in her right hand in this incident. That's why you should also listen to this student's side. Because we think that other news channels will not show you this side.
Liberals are misusing JNU
Delhi's Jawaharlal Nehru University is spread over an area of ​​about one thousand acres. This is a central university, which gets a grant of crores of rupees every year by the Government of India. Between 2012 and 2017. The University Grants Commission gave Rs 215 crore to JNU. But today the Left parties and liberals of our country misuse JNU. This university is used to run its agenda. That's why today the big issue is that.. we are considering middle-aged political workers as students and through JNU we are filling the money of their education from the pockets of the taxpayers.
Disclaimer: This story is auto-aggregated by a computer program and has not been created or edited by Prachand.in. Publisher: Zee News