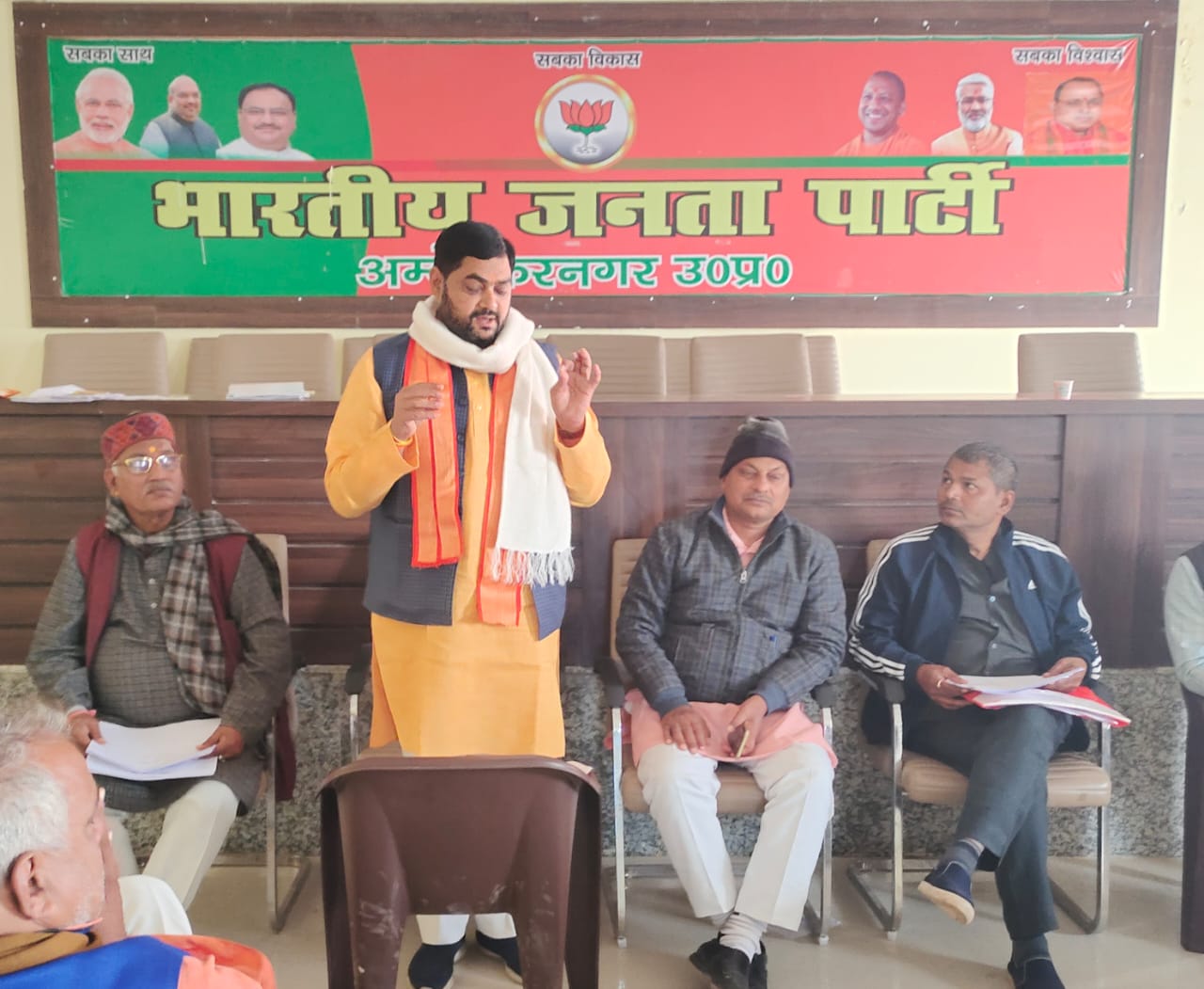 Bhaskar Bureau
Ambedkar Nagar- The Bharatiya Janata Party is fully engaged in finalizing the preparation for the elections. The meetings of the BJP's Legislative Assembly Election Steering Committees in the district are going on continuously in the presence of the BJP District President and District Migrant Chief. On Saturday, in the presence of BJP District President Dr Mithilesh Tripathi and District Pravasi Pramukh, the meeting of the Election Steering Committee of Tanda and Akbarpur Legislative Assembly started with Vande Mataram song and garlanded the portrait of Pandit Deen Dayal Upadhyay and Dr. Shyama Prasad Mukherjee.
Addressing the meeting, BJP District President Dr. Mithilesh Tripathi said that the BJP government has developed the state by contemplating the happiness and prosperity of all sections of the society. He said that it is the responsibility of all of us to complete the tasks directed by the organization on time. The workers should work to complete all the campaigns and programs with full dedication.
While apprising the Election Steering Committee members about the work related to their responsibilities through the meeting, District Pravasi Pramukh Kameshwar Singh said that every family of the state and the country has got the benefit of the public welfare schemes of the central and state government. There will be no family in the state which has not got the benefit of the schemes of the BJP government. He said that the BJP government has increased the country's honor and respect in the world by developing the state and the country.
According to BJP district media in-charge Balmiki Upadhyay, the meeting of Legislative Assembly Jalalpur and Alapur has been completed and the meeting of Election Steering Committee of Katehri Legislative Assembly will be held on January 16 at Dev Indravati College. Chief in the Steering Committee meeting of Legislative Assembly Tanda and Akbarpur Vidhan Sabha Pravasi Ajay Singh, Akhilesh Singh, Vidhan Sabha Vistarak, Divisional In-charge etc. were present.