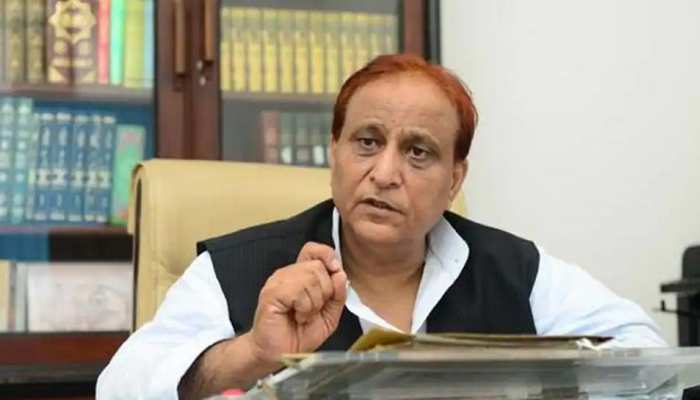 Azam May Leave Samajwadi Party: Azam Khan is upset at being ignored by Akhilesh Yadav and Mulayam Singh Yadav. He can leave SP and form a new party of his own. Azam Khan is lodged in Sitapur Jail for almost two years.
Rampur: Samajwadi Party (SP) may soon face another major setback as senior party leader Azam Khan may leave the party and form his own party. Azam Khan's media in-charge Fasahat Khan Sanu said that Chief Minister Yogi Adityanath had rightly said that Akhilesh does not want Azam Khan to come out of jail.
Akhilesh doesn't care about Azam Khan
Let us inform that Fasahat Khan Sanu made this remark at a meeting of Azam Khan's supporters at the party office in Rampur late on Sunday night. Fasahat said that we made Akhilesh and Mulayam Singh Yadav the Chief Minister of UP but they did not make Azam Khan as Leader of Opposition. He went to meet her in jail only once.
CM Yogi's comment was right that Akhilesh Yadav doesn't want Azam Khan to be out (of jail). We made you&Mulayam Yadav UP CM but you didn't make Azam Khan as leader of Opposition. You only went once to meet him in the jail: Azam Khan's media in-charge Fasahat Ali Khan Sanu (10.04) pic.twitter.com/DoyoXMen0x

— ANI UP/Uttarakhand (@ANINewsUP) April 11, 2022
Akhilesh went to meet Azam in jail only once
According to sources, Azam Khan is upset that except once, Akhilesh Yadav did not visit him in Sitapur Jail, where he has been lodged since February 2020. Azam Khan contested the 2022 Uttar Pradesh Legislative Assembly election and won the Rampur seat for the 10th time from behind bars in Sitapur Jail. Fasahat said that at the behest of Azam Khan, Muslims not only in Rampur but in many districts also voted for SP, but the national president of SP did not favor Muslims.
Azam Khan is in jail for two years
Know that Azam Khan has been in jail for more than two years, but the SP President went to meet him in jail only once. Not only this, importance is not being given to Muslims in the party. Fasahat further said that now it seems that Akhilesh Yadav is smelling our clothes. Interestingly, a day back SP MP Shafiqur Rahman Burke also alleged that SP is not working for Muslims.
Samajwadi Party's state spokesperson and national secretary Rajendra Chaudhary said that I am not aware of any such meeting or comment. Azam Khan is with SP and SP is with him. Azam Khan's wife Tanzin Fatima is a former MLA and former Rajya Sabha member, while her son Abdullah Azam Khan has won the Swar Legislative Assembly seat in Rampur.
On 22 March, Azam Khan resigned as a member of the Rampur Lok Sabha to retain his Legislative Assembly seat. This was done on the same day Akhilesh quit as SP's Azamgarh Lok Sabha member to retain his Karhal Assembly seat.
Earlier, Azam Khan was out of SP when the party expelled him for 6 years in May 2009. The expulsion was revoked in December 2010 and he rejoined the party. During the period of his expulsion, he had not forged an alliance with any other party.
(With inputs from news agency IANS)
Live TV
Disclaimer: This story is auto-aggregated by a computer program and has not been created or edited by Prachand.in. Publisher: Zee News