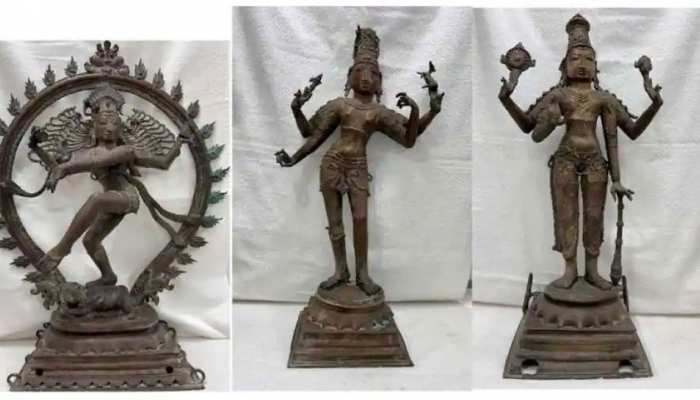 Old Hindu deities seized: Some sculptures of the transition period of the Chola and Vijayanagara dynasties have been confiscated. Before 1980, idols were stolen from Hindu temples. These idols of 'Nataraja', 'Vindhar Shiva' and 'Vishnu' are worth lakhs.
600-year-old Hindu deities seized: Acting on information that idols of ancient Hindu gods and goddesses were kept without legal documents at a place in Puducherry, the CID police have seized some prized idols belonging to the Tamil Nadu Idol Wing. According to the police, a team from Chennai on Tuesday (April 12) searched a premises on Safran Road in Puducherry and seized three ancient metal idols of Hindu deities.
Sculptures more than 600 years old
According to experts, these idols are estimated to be more than 600 years old. Looking at their structure, it seems that they belong to the transition period of the Chola and Vijayanagara dynasty. Before 1980, idols are suspected to have been stolen from Hindu temples. It is said that the sculptures depicting 'Nataraja', 'Vindhara Shiva' and 'Vishnu' were earlier in the possession of late Joseph Colombani of Puducherry. However, no legal documents were available regarding their possession in the premises.
Three #Hindu deity(600yr old) metal idols valued at Rs.12cr seized from #pondicherry

Nataraja, Veendhara Shiva, Vishnu idols were once in possession of Late Joseph Colombani, say cops;
Nataraja idol weighs 23kg, others 15kg each

Attempt to smuggle #France had once failed pic.twitter.com/A3gYQYZUMe

— Sidharth.MP (@sdhrthmp) April 13, 2022
12 crores is the price
Weighing 23 kg and having a height of about two and a half feet, the statue of Nataraja is worth Rs 6 crore. Whereas the other two idols also have almost the same height and weight of 15 kg, whose cost is 3-3 crores i.e. the total cost of all the three idols is 12 crores. Investigations are on to trace the origin of these idols and the temples related to them. It was also learned that the accused had made unsuccessful attempts to take the idols to France.
old things have to be registered
Vijay, co-founder of the NGO India Pride Project, told our affiliate website WION, "The recent seizures once again focus attention on the need for collectors to register antiques in their area. The Antiquities and Art Treasures Act (AAT 1972) has clearly defined any artefact that is more than 100 years old.
Read also:
export not allowed
Vijay said that export of such sculptures is not allowed anyway as India has banned the export of any artwork which is more than 100 years old. Non-registration of such artefacts is a major reason for such crime. He said that those who keep antiques should know the law of the land and there is no excuse for not doing so.
Live TV
Disclaimer: This story is auto-aggregated by a computer program and has not been created or edited by Prachand.in. Publisher: Zee News