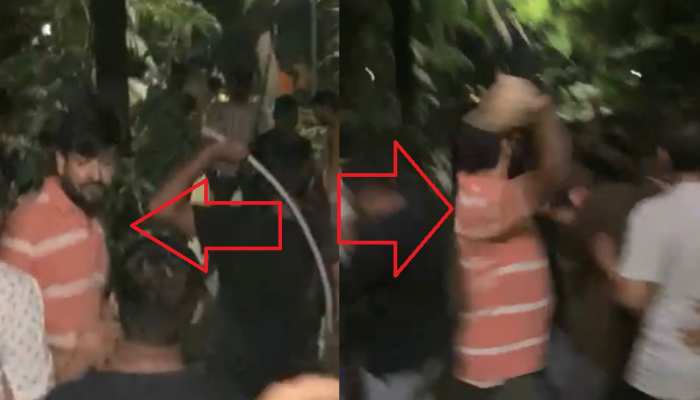 JNU Meat Controversy Latest Update: There has been a clash between Akhil Bharatiya Vidyarthi Parishad and Left organizations in JNU. While on one hand ABVP stopped him from worshiping Ram Navami, on the other hand AISA claimed that the secretary of Kaveri Hostel was assaulted for eating meat.
New Delhi: The Akhil Bharatiya Vidyarthi Parishad (ABVP) has released a video of the violence at Jawaharlal Nehru University on Sunday. In this video, the president of Left wing organization SFI Harendra Sheshma is purportedly seen throwing stones in JNU. In the video, Harendra Sheshma is seen in an orange color shirt. Apart from this, ABVP has accused of hiding the signature of its president in the letter issued on behalf of AISA.
SFI president seen throwing stones!
In the video released by the ABVP, students from both sides are seen running sticks in their hands in the fight between the groups of students. In this, the president of SFI is also seen allegedly throwing stones. There is also abusing in the video. Along with this, the letter issued by the leftist student organization AISA in the name of Mess Committee of Kaveri Hostel has been termed as fake by the ABVP and claimed that this letter was replaced by Mess Committee at Cauvery Hostel, JNU. has written.
AISA hid the signature of its president!
Apart from this, ABVP has asked AISA that why AISA hid the signature of the President of AISA JNU in the letter while issuing it and did not make it public. Let us inform that a letter was issued in the name of Kaveri Hostel Mess Committee of AISA, in which it was said that the worker who brought the chicken was beaten up. In this letter, AISA had hidden the signature of its president Pankaj, done at number four.
ABVP made this claim
ABVP's national media coordinator Siddharth Yadav tweeted claiming that AISA issued a fake letter to spread its propaganda. The letter which was written by the President of JNU AISA was claimed to belong to the Hostel Committee. If nothing was wrong, why hide the name of its president? Due to intolerance towards Ramnavami worship, the leftists did this by planning.
A fake letter produced by @AISA_tweets to propagate their false propaganda. A letter written by @aisajnu president claimed as that of hostel committee. If nothing was wrong, why hide your presidents name?

Intolerance towards Ramnavmi poojan led to this orchestrated act by Left pic.twitter.com/IYHlygUtrT

— Sidharth Yadav (@SidharthYadavIN) April 10, 2022
It is worth noting that on Sunday, news of a clash between the students of the Left student organization AISA and the Akhil Bharatiya Vidyarthi Parishad (ABVP) came to the fore over a meet in JNU. Left wing students alleged that ABVP students assaulted the mess secretary of Kaveri Hostel over non-veg food. At the same time, ABVP students alleged that Left students were stopping people from worshiping Ram Navami in Kaveri Hostel.
Disclaimer: This story is auto-aggregated by a computer program and has not been created or edited by Prachand.in. Publisher: Zee News