New Delhi: Actress Kangana Ranaut is not well for a long time. On Monday, Kangana opened up about her health on Instagram Story and revealed that she has been battling multiple ailments within the span of a year.
"In the last twelve months I had everything from dengue, Covid, Delta, Covid – Omicron, and Covid + swine flu. I have been constantly ill. What I mean to say is that everyone sometimes feels sad and depressed, weak and hopeless, yes even Batman type people (this means that everyone has moments when they feel down and out, Feel weak and hopeless. Even people who are like Batman)(smiley face emoticon)," she wrote.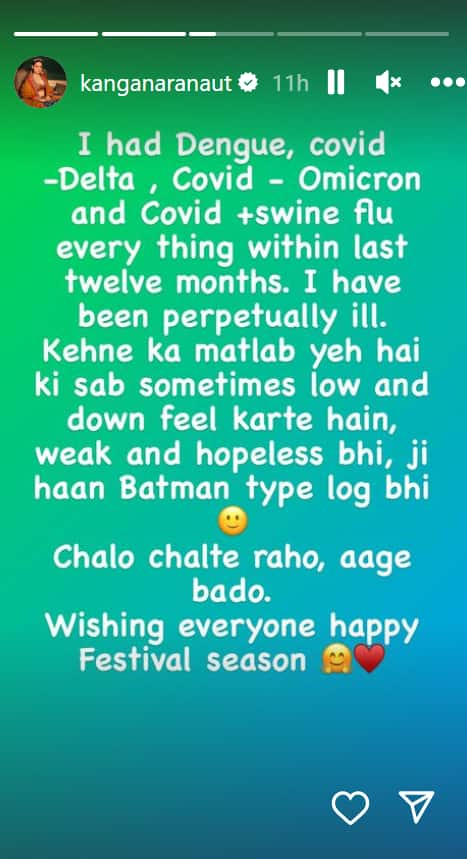 He further said, "Chalo chalte raho aage badho (the point is to look ahead and progress) wishing everyone a happy festival season. (hugs and red heart emoticons)."
Kangana will be seen in the role of an Air Force pilot in 'Tejas'. 'Tejas' revolves around the extraordinary journey of Air Force pilot Tejas Gill, and aims to inspire people and instill a deep sense of pride about the brave soldiers who faced many challenges along the way. Protect our country.
Written and directed by Sarvesh Mewada, the film is all set to release in theaters on October 20, 2023. She will also be seen in 'Chandramukhi 2'.
Due to technical delays, the makers have postponed the release date to September 28. Directed by P Vasu, 'Chandramukhi 2' is the sequel to the blockbuster hit Tamil horror comedy film 'Chandramukhi', which starred Rajinikanth and Jyothika in the lead roles. It is produced by Lyca Productions and Subaskaran.
Apart from this, Kangana will next be seen in the upcoming period film 'Emergency' in which she will be seen playing the role of late Prime Minister Indira Gandhi.