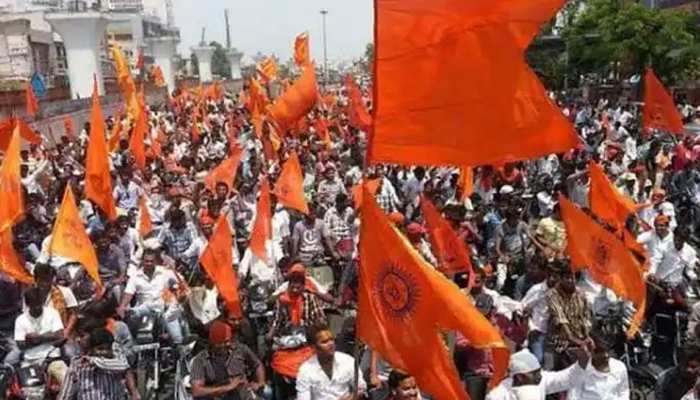 Yeti Narasimhanand, the head priest of the Dasna Devi temple in Ghaziabad, has reportedly said that if a Muslim person becomes the prime minister of the country, "50 per cent of Hindus will be converted in 20 years".
New Delhi: Yeti Narasimhanand, the chief priest of Dasna Devi temple in Ghaziabad, adjacent to Delhi, who is in the news due to controversial statements, has once again created controversy with his statement on Sunday. He reportedly said that if a Muslim person becomes the Prime Minister of the country, then in 20 years '50 percent of Hindus will be converted.'
Organizing Hindu Mahapanchayat
Addressing a 'Hindu Mahapanchayat' organized without the permission of the Delhi administration, Narasimhanand also allegedly exhorted Hindus to take up arms to save their existence. The mahapanchayat was organized at Burari Maidan by the same organization which had earlier organized similar programs at Haridwar and Delhi's Jantar Mantar where anti-Muslim slogans were allegedly raised.
Narasimhanand Swami is out on bail
Many leaders who had a sense of Hindu superiority attended the program organized on Sunday at Burari Maidan. Let us inform that Narasimhanand is currently out on bail regarding the Haridwar incident.
Will this be the future of Hindus?
He said, 'In the year 2029 or in the year 2034 or in the year 2039, the Muslim will become the Prime Minister. If once a Muslim becomes the Prime Minister, then in the next 20 years 50 percent of the Hindus will be converted, 40 percent will be killed and the remaining 10 percent will be either in refugee camps or in another country.
call to take up arms
In the video of the Mahapanchayat on social media, Narasimhanand is purportedly heard saying, 'This will be the future of Hindus. If you want to escape from this future, be a man and take up arms. However, we do not independently check the veracity of this video.
Muslim journalists attacked in the program?
Meanwhile, there are reports of alleged misbehavior with some journalists from Delhi who had gone to cover the event. The police, however, have denied the claim of taking him into custody. One of the journalists who went to cover the event tweeted, alleging that two Muslim members of the media were attacked by a Hindu mob at the Mahapanchayat and were also detained.
Police arrested journalists?
North West Delhi Police Commissioner Usha Rangnani said on Twitter that no one has been detained. He tweeted, 'Some correspondents voluntarily sat in the police PCR present there to avoid opposition to their presence and opted to go to the police station in the same due to security reasons. No one has been taken into custody. Necessary police protection was provided. Rangnani tweeted, 'Necessary action will be taken against such people for spreading false information.'
Live TV
Disclaimer: This story is auto-aggregated by a computer program and has not been created or edited by Prachand.in. Publisher: Zee News