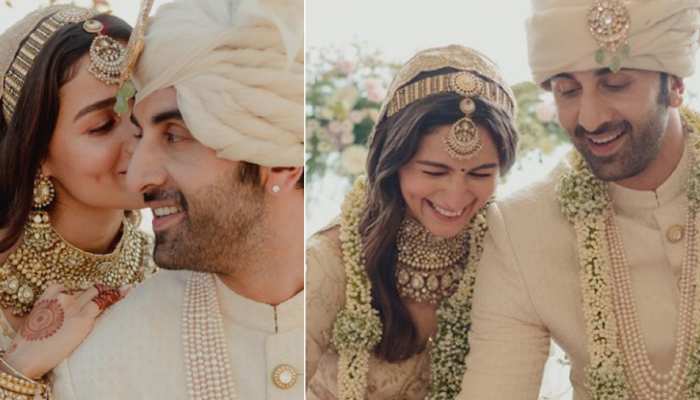 Ranbir Alia Wedding: Photos and videos of Alia Bhatt and Ranbir Kapoor's wedding are becoming increasingly viral on social media. Meanwhile, a video has also surfaced, in which Ranbir is calling Alia his wife even before the rounds.
Ranbir Alia Wedding: The pictures of Ranbir Kapoor and Alia Bhatt's wedding are not even enough to satisfy people that now the videos of this couple have also started appearing. Many videos of Ranbir and Alia are becoming increasingly viral on social media and meanwhile a video of Ranbir has surfaced, in which he said such a thing about Alia that the people present there jumped with joy.
Introduced Alia after Jaimal
The wedding of Alia Bhatt and Ranbir Kapoor was eagerly awaited not only by their fans but also by the family and friends of both. Without any special appearance, both of them held each other's hand in a very simple way. After the wedding pictures, the wedding videos of both of them are also becoming very viral on social media. One of those videos is of his Jaimal (Ranbir-Alia Jaimal video), where Ranbir is seen introducing Alia as wife during Jaimal after Jaimal to his wife i.e. Alia Bhatt in a special way from his family.
say hi to my wife – Ranbir Kapoor#RanbirAliaWedding pic.twitter.com/mjPjJ5sjnh

— (@sarphirimusafir) April 14, 2022
Aaliya was called wife only after Jaimal
Ranbir Kapoor and Alia Bhatt tied the knot on April 14. Both of them made this moment special with their family and some special friends at Ranbir's house 'Vastu' apartment. Now a video of Jaimala of both is becoming very viral on social media. In the video, Ranbir kisses Alia after the garland. After this, Alia is being introduced with great love in front of her family members. Ranbir is seen saying, hi to my wife. Everyone cheers him on this. Alia is also seen saying 'Hi' to everyone.
Jaimal's video went viral
After marriage, Ranbir-Alia shared wedding pictures on social media, which people gave a lot of love. Before this video, a video of Jaimal went viral on social media, in which some people make Ranbir sit on his shoulder during Jaimaal and Alia is unable to make him wear Jaimal, after which she says loudly, Koi me bhi pick up. . On hearing this from Alia, however, Ranbir himself sits on his knees and Alia again pours him a jaymal.
Ranbir-Alia return to work after marriage
Let us tell you that after marriage, both Ranbir Kapoor and Alia Bhatt have returned to their respective work. Alia is busy with Karan Johar's film 'Rocky and Rani's love story'. This film is going to be released on 10 February 2023. At the same time, Ranbir has also started shooting for the film 'Animal'. Anil Kapoor and Bobby Deol will be in important roles along with Ranbir Kapoor in the film. Anil Kapoor is going to be seen in the role of Ranbir's father in the film.
like to
Disclaimer: This story is auto-aggregated by a computer program and has not been created or edited by Prachand.in. Publisher: Zee News