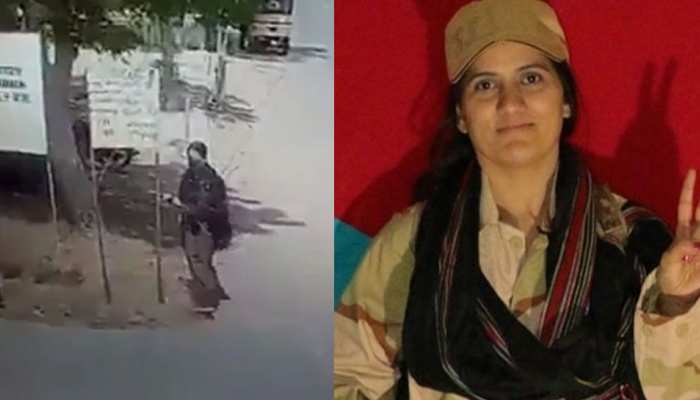 Karachi attack: In the attack that took place in Karachi last evening, there was talk of the involvement of Baloch terrorists. In such a situation, let us know who are these Baloch terrorists who terrified Karachi.
Karachi attack by Baloch Agitators: The attack on the evening of April 26 by Baloch agitators on an institute teaching Chinese language in Karachi is a turning point in many ways. 3 Chinese civilians were killed and 1 was injured in a suicide attack. The attack was carried out by Shari Bloch, a 30-year-old post graduate in zoology and pursuing MPhil. Shari Baloch comes from a very educated family in Balochistan and her husband is also a doctor. Taking responsibility for the attack, the Baloch Liberation Army (BLA) warned China to leave Balochistan. This attack announces the massive participation of women in the Baloch freedom movement, as well as indicates the intensification of the Baloch freedom movement.
Will women attack now?
Shari Baloch alias Brashm hailed from Turbat in Balochistan and earned her master's degree in ZOOLOGY from Balochistan University, Quetta. After this, he started teaching in a secondary school along with doing Mphil from Turbat Campus of Allama Iqbal Open University. Her husband is a dentist and her father has been a government official. They have two children and the family is highly educated and reputed. The BLA said in a press release that two years ago, Shari had joined the Baloch Majeed Brigade and expressed her desire to engage in suicide operations. He was asked to reconsider but after he did not change his mind, he was allowed to join these campaigns. The BLA has asked China to immediately stop exploiting Balochistan's resources and leave. The BLA has also said that hundreds of its trained suicide men and women are ready for the next attacks.
This year there has been an increase in the attacks of the Baloch agitators.
Other agitating groups in Balochistan, including the BLA, have reduced the number of suicide attacks. There have been many women agitators and many of them have also participated in armed attacks. But Shari is the first Baloch woman to carry out a suicide attack with a body bomb. Since the beginning of this year, there has been a spurt in the attacks by the Baloch agitators. In February, the Baloch carried out major attacks on two bases of the Frontier Corps, involving hundreds of Baloch agitators, who killed a large number of Pakistani soldiers and took many people hostage. The most important thing is that the Baloch have new weapons and these are weapons like the American soldiers left in Afghanistan in 2021. This means that the Baloch are getting help from the Taliban government of Afghanistan in some way and this is the biggest concern for Pakistan.
Balochistan is the poorest province of Pakistan
Another big concern for Pakistan is the displeasure of China. In Balochistan, China is working on its most ambitious Gwadar port along with running several major gas projects. But the brutality with which China is looting the natural resources of Balochistan has angered the Balochists. Balochistan is Pakistan's poorest province and has the largest natural resources, including gas, that China is eyeing. On July 14 last year, a bus carrying Chinese at the Dasu Project in Khyber-Pakhtunkhwa's Kohistan was attacked in which nine Chinese engineers were killed. After this attack, China had shown its strong displeasure with Pakistan and asked to ensure the security of its citizens. After the Karachi attack, there is news that China's displeasure has increased a lot. Pakistan deploys two divisions (about 30,000) soldiers to protect China's projects, which China bears. Obviously, China will now definitely investigate the failure in that expenditure and security and this is a new headache for Pakistan.
Live TV
Disclaimer: This story is auto-aggregated by a computer program and has not been created or edited by Prachand.in. Publisher: Zee News