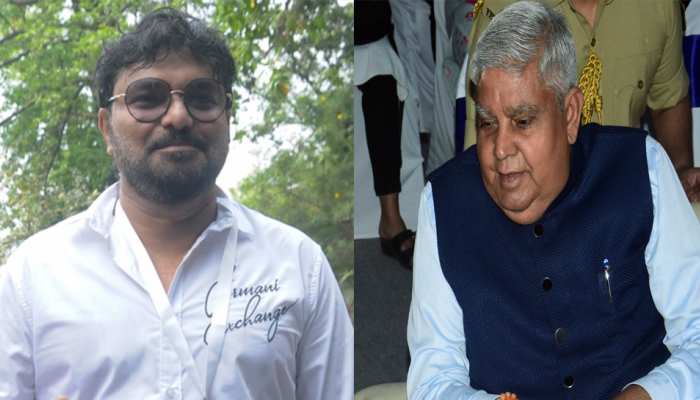 Babul Supriyo swearing in: After Babul Supriyo's victory a file of documents was sent to the Governor from the speaker. It was through this file that the new TMC MLA was to be sworn in in the Legislative Assembly. But the governor cited lack of documents.
Babul Supriyo Swearing in Controversy: The fight between the government and the governor is not a new thing in the politics of West Bengal. Every day there is a dispute between the government of Mamta Banerjee and Governor Jagdeep Dhankhar on some issue. Now a new controversy has started regarding the swearing-in of newly elected TMC MLA Babul Supriyo.
file back from governor
Babul Supriyo has won the Ballygunge Vidhan Sabha seat by-election. But the screw is stuck regarding his swearing-in. This controversy arose after Governor Jagdeep Dhankhar returned the file related to his swearing-in in the Legislative Assembly.
In fact, after the victory of Babylon, a file of documents was sent by the Speaker to the Governor. It was through this file that the new MLA Babul Supriyo was to be sworn in in the Legislative Assembly. But the Governor returned this file citing lack of documents and summoned the Secretary of the Legislative Assembly.
Secretariat gave its clarification
It has been said on behalf of the Governor that he will sign the file only when all the questions asked about the Legislative Assembly will be answered to him. Babul is the only MLA who is to be sworn in. On the questions of the Governor, the Legislative Assembly Secretariat says that every question of his has already been answered. Till now the date of the swearing-in of Babylon in the Legislative Assembly has not been decided.
Now after this controversy, the governor is again on the target of TMC leaders. Party general secretary Kunal Ghosh condemned this and said that no person holding a constitutional post should do this. He accused the governor of working for the BJP and said that he creates hurdles in the work of the state government at every step.
Live TV
Disclaimer: This story is auto-aggregated by a computer program and has not been created or edited by Prachand.in. Publisher: Zee News