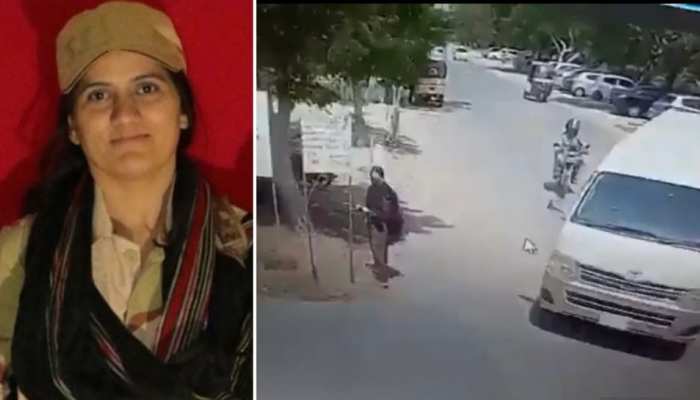 On Tuesday, three Chinese and one Pakistani national were killed in a suicide attack on Pakistan's Karachi University.
First Female Suicide Bomber Shari Baloch: On Tuesday, three Chinese and one Pakistani national were killed in a suicide attack on Pakistan's Karachi University. Everyone wants to know about Shari Baloch, the first female suicide bomber of Balochistan who carried out this attack.
Shari Baloch was a volunteer of Majeed Brigade.
Afghan journalist Bashir Ahmed Gwakh has given information about Shari Baloch by tweeting. According to Gwakh, Samil Shari Baloch was 30 years old in the attack. He had a master's degree in zoology and an MPhil in education. She used to teach in a school. Shari Baloch was a volunteer of the dreaded 'Majid Brigade' of the Balochistan Liberation Army. He had joined the BLA 2 years ago and had urged himself to be used in a suicide attack.
CCTV footage of the suicide bomber who detonates explosives when the Chinese Institute vehicles arrived. Police confirms the killing of 3 Chinese and 1 Pakistani in this #BLA attack.
BLA has significantly up their attacks in #Pakistan in recent times.#KarachiUniversity pic.twitter.com/MDkYGZpbbL

— Bashir Ahmad Gwakh (@bashirgwakh) April 26, 2022
left behind 2 kids
Shari Baloch has two children (8 and 5 years old). Her husband Habitan Bashir Baloch is a dentist while father was a government servant. Shari Baloch's husband Habitan Bashir Baloch tweeted from an undisclosed location that he was shocked by this selfless act of his wife but at the same time proud of what the wife has done.
Karachi University was attacked
There was a big explosion on Tuesday near Confucius Institute, a Chinese language learning center at Karachi University. In this attack, 3 Chinese nationals coming in the van and their Pakistani driver were killed. The Chinese Embassy in Pakistan has condemned the blast at Karachi University.
PM Shahbaz Sharif expressed grief
Pakistan's PM Shahbaz Sharif went to the Chinese Embassy after this incident and met the Chinese ambassador there and condoled the incident. Shahbaz said that she will not spare the culprits of the incident and they will be brought under the ambit of law. Meanwhile, the university administration has decided to keep the campus closed today for security reasons.
Now a new era has started in Balochistan movement
Afghan journalist Bashir Ahmad Gwakh said that Shari Baloch was so educated. His family also came in the elite class. His family was never harassed by the Pakistani army. Despite this, he decided to blow up Chinese civilians by becoming a suicide bomber. This shows that the freedom movement of Balochistan has now entered a new era. Now every citizen of Balochistan is not going to hold back from throwing everything in this fight.
Live TV
Disclaimer: This story is auto-aggregated by a computer program and has not been created or edited by Prachand.in. Publisher: Zee News