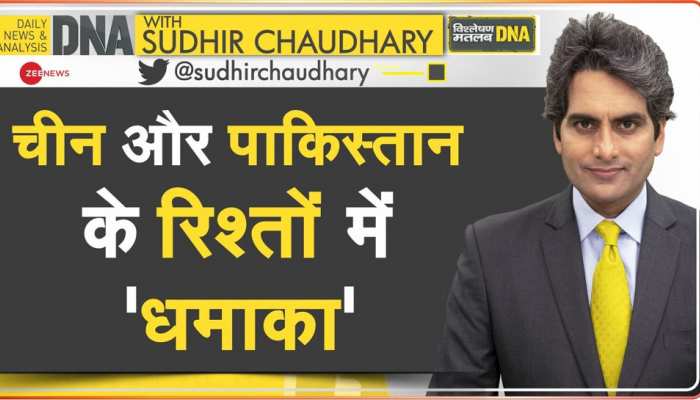 Pakistan Karachi Blast: In addition to the suicide bomber, 4 people have died in a suicide bombing in Karachi city of Pakistan. Since this attack, Chinese President Xi Jinping and Pakistan's PM Shahbaz Sharif have come under tension.
Pakistan Karachi Blast: Apart from the suicide bomber, 4 people died in a suicide bombing in the city of Karachi in neighboring Pakistan. These include three citizens of China. The CCTV video of this suicide attack has surfaced. In this, the female Suicide Bomber can be clearly seen.
This video is from the campus of Karachi University, where this female human bomb is standing on a bend on the side of the road. It is waiting for the ambush van in which the citizens of China were coming.
Female suicide bomber attacked
Meanwhile, this woman looks at the CCTV camera. Only then the bus of the citizens of China comes near. This lady slips a little towards the bus. In his hands is a remote control. As soon as this white colored van approaches the woman…she presses the remote button and it explodes. The woman herself is killed and four other people also die along with her.
As soon as the blast took place, the van of the citizens of China caught fire. The flames could be seen from afar. Within no time the van was completely burnt. The Baloch Liberation Army (BLA) has claimed the responsibility of this attack. The name of the suicide bomber who carried out this incident is – Shari Bloch alias Brams. This woman is said to be a member of the Majeed Brigade of the Baloch Liberation Army.
#DNA 'Blast' in relations between China and Pakistan@aditi_tyagi

Watch other videos here – pic.twitter.com/c7WESEjdYy

— Zee News (@ZeeNews) April 26, 2022
Pakistani PM Shahbaz Sharif expressed grief
After the blast, Pakistan's Prime Minister Shahbaz Sharif reached the Chinese embassy and expressed grief. The news of bomb blasts often comes in Pakistan, but does Pakistani PM Shahbaz Sharif go there to express condolences and condolences? But the way Shahbaz Sharif immediately reached the Chinese embassy, ​​it shows how much pressure China has on Pakistan.
The BLA, the organization that took responsibility for the suicide attack on Chinese citizens in Karachi, was established in 2000. The purpose of BLA is to separate Balochistan from Pakistan and make it an independent country. With this agenda, he is leading a violent movement in Pakistan.
Why are Chinese citizens being targeted?
Suicide attack or violence in any form cannot be justified. But it is important to understand why Chinese citizens are being targeted in Pakistan. In fact, China is making Pakistan its economic slave in the name of financial aid.
China is making CHINA PAKSITAN ECONOMIC CORRIDOR in Pakistan. For this, China is investing 60 billion dollars in Pakistan. But under the guise of investment, China is encroaching upon all the natural resources of Pakistan.
People of Balochistan against Pakistan
Against this, there is a strong protest of China in Pakistan. Especially in Balochistan, there have been continuous demonstrations against China for the last several years. China is building a major port in Gwadar. There, thousands of people took to the streets against the Chinese occupation. The people of Gwadar alleged that China has captured all the resources there through its projects. This has put the livelihood of the local people in danger.
It is said that whoever digs a pit for others, he himself falls in it. Pakistan keeps on plotting terrorist conspiracy against India. Pakistan provides training and funds to terrorists for attacks in Kashmir, but the fire of terrorism is burning Pakistan too. Another proof of this is the terrorist attack in Karachi. But it is important to understand its Chinese connection in this blast in Karachi. There are 4 such things in this suicide attack, which prove its connection with China.
Know 4 special things about Karachi blast
Firstly, this blast was done by targeting the vans of Chinese citizens. Secondly, 3 Chinese citizens died in this, in which two were women. Except the driver of the van driver, all the deceased were Chinese citizens. Thirdly, China has created an institute in Karachi University, which is named – Confucius Institute. Chinese language is taught here. The suicide attack took place near this institute and the director of this institute is also among those killed. And the fourth thing is that the BLA, which has taken responsibility for the suicide attack, has been continuously opposing the interference of China in Pakistan.
There have been attacks on Chinese citizens in the past too.
By the way, this is not the first time that attacks were carried out in Pakistan targeting Chinese citizens. In August 2021, a vehicle carrying Chinese citizens was attacked in Gwadar. In July 2021, 9 Chinese civilians were killed in a suicide attack in northwest Pakistan. In November 2018, the Chinese consulate in Karachi was attacked, in which four people died. In October 2018, a bus of Chinese engineers was attacked in Balochistan. In June 2020, the Pakistan Stock Exchange in Karachi was attacked. Chinese companies have a major stake in this stock exchange.
Disclaimer: This story is auto-aggregated by a computer program and has not been created or edited by Prachand.in. Publisher: Zee News