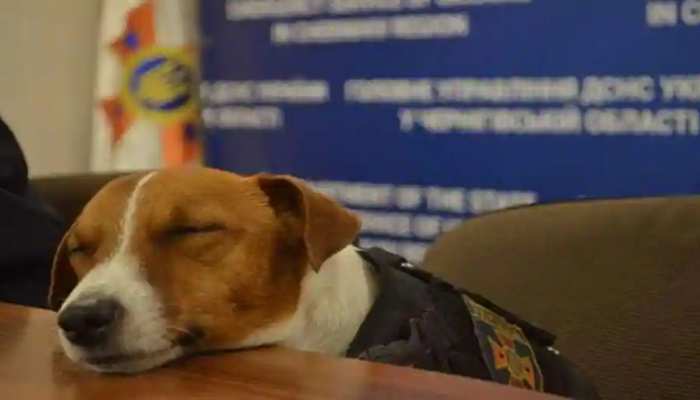 Ukrainian Service Dog: A service dog from Ukraine has performed wonderfully in the war with Russia. This dog named Patron has so far detected more than 150 explosives. Due to this bravery, Patron has become a hero of the whole Ukraine.
War News: A service dog has become a hero in Ukraine amid Russian attacks. There is talk of the same everywhere. Even the Foreign Ministry of Ukraine has issued a statement praising the dog and thanking him for saving hundreds of lives. Actually, this dog named Patron is associated with the State Emergency Service of Ukraine.
Hundreds of lives saved
According to the news published in our affiliate website WION, the Foreign Ministry of Ukraine claims that Patron has so far detected more than 150 explosive devices planted by Russian Troops, due to which hundreds of lives have been saved. Could. He says that if Patron did not do this, Ukraine would have suffered massive losses.
Patron is a service dog in #Chernihiv, He has discovered over 150 explosive devices in #Ukraine since full scale #Russian invasion began. Patron works closely with deminers to make #Ukrainian cities safe again.

Thank you so much for your service!

by patron_dsns (Instagram) pic.twitter.com/VyFbk2ffLQ

— MFA of Ukraine (@MFA_Ukraine) April 24, 2022
Amazing showing since the beginning of the war
A tweet made by the Ministry of Foreign Affairs on Monday said that Patron is a service dog working with the team responsible for finding and defuse explosive devices near the Ukrainian city of Chernihiv. The tweet further states that Patreon has discovered more than 150 explosive devices since the start of the Russian attacks. We thank Patron for making the city of Ukraine safe.
Video going viral on social media
Many videos of Patron have been shared on social media under the Instagram handle @patron_dsns, which are going viral. In these videos, he is shown performing duty. Patron is two years old and he is a dog of Jack Russell Terrier breed. This member of the Chernihiv branch of the State Emergency Service (SES) of Ukraine has become famous in Ukraine as well as all over the world.
A film will be made on the story of Dog
Earlier, the Center for Strategic Communications and Information Security also shared a video of Patron on duty, saying that one day a film will be made on his story. "One day Patron's story will be shown on the big screen, but for now, he is faithfully performing his professional duties," a tweet said.
Disclaimer: This story is auto-aggregated by a computer program and has not been created or edited by Prachand.in. Publisher: Zee News