Aam Aadmi Party : In Punjab, the Aam Aadmi Party has achieved unprecedented success in the assembly elections of five states. Since then, AAP has shifted its focus to other states. Delhi Chief Minister Arvind Kejriwal and Punjab Chief Minister Bhagwant Mann have started efforts to increase their power in other states. It is in this background that AAP started the tricolor yatra in Himachal Pradesh. During this, Bhagwant Mann fiercely targeted BJP and Congress. Mann said that he wants to free people from the bondage of Congress and BJP.
Since AAP's victory in Punjab, leaders of both Congress and BJP have been saying that no third party can come to power in Himachal. This means that both the parties are scared of the Aam Aadmi Party, Mann said. Aam Aadmi Party's tricolor procession in Himachal Pradesh got huge support from the people. Bhagwant Mann said that he felt that due to the immense power of the people, a wave of revolution has started here and in Punjab as well. "People here are fed up with the loot of BJP and Congress and are looking at Aam Aadmi Party as a new alternative," Mann said.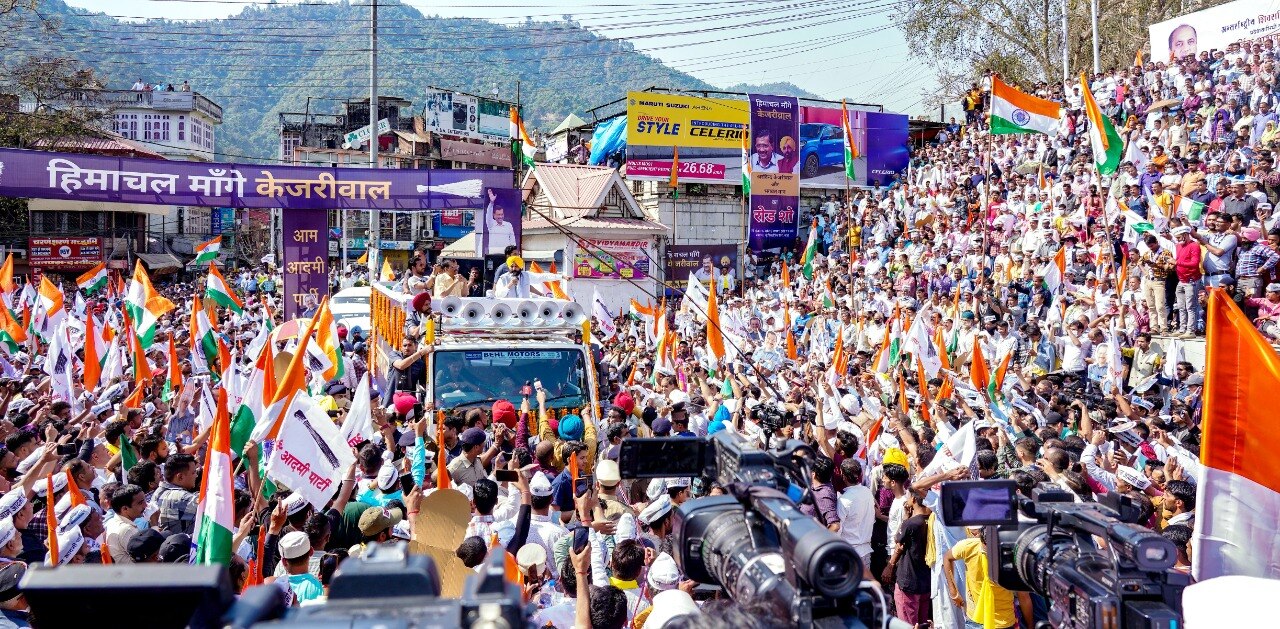 We don't know how politics is done, but we know patriotism. Delhi Chief Minister Arvind Kejriwal said that first we made a change in Delhi, we are making a change in Punjab and now we will change Himachal also. He also appealed to the people to give us a chance. "You've seen the other side too. Once you see us, the difference is obvious," he said.
Meanwhile, AAP had brought the tricolor in place of the party's flag in the rally. This is being seen as a reaction to the nationalism of the BJP. There was a lot of enthusiasm among the people in the traditional dress. People of almost all ages participated in it. The Aam Aadmi Party has blew the trumpet for the upcoming assembly elections from Mandi, the district of Chief Minister Jai Ram Thakur. AAP is claiming to give Himachal a third option. After the results of Punjab, a large number of people are joining AAP. Many desperate leaders in Congress BJP are also joining the party.
Source